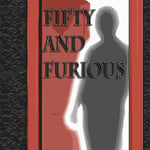 Wade was a lovable bastard. He loved women. He loved his wife. He loved his children and he loved his booze. The problem was he couldn't figure out in which order he should love them all. Though he learned to think less about himself and more about others as he journeyed through life, he was still a bit self-centered in his approach on most things, including love, life and faith.
Unfortunately, one day Wade's world came crashing down around him and he struggled to rationalize what was happening. This is the story of one man's trials and tribulations when he finds himself without a safety net after being summarily fired without cause from his job, a job that made up a pretty large segment of his existence. Love, faith and suicide all come into play. Which direction will Wade go? The easy out or will he learn to stand again and march onward?
You can buy your copy HERE in either Kindle format or paperback. Even if you don't have a Kindle, the Kindle app works on a wide variety of devices and the ebook will be available via the Kindle Cloud.