A Simple Journey to Pocasting Success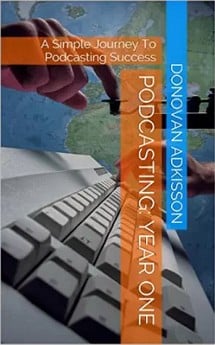 In the winter of 2011, I launched my first podcast, which was a dismal failure. Lacking confidence but still determined, I regrouped and launched my second podcast, which ran for 63 episodes. During my journey, I made mistakes and learned from them, started with mediocre equipment and then upgraded. In the summer/fall of 2012, I decided to commit what I had learned to electronic format so others could possibly learn from my mistakes and also what did work for me. Thus, Podcasting: Year One was born. It's not an end-all book on podcasting, but rather a true to life account of my own experiences as I ventured into the murky depths of new media.
It's available from Amazon on the Kindle platform. Even if you don't have a Kindle, you can use the Kindle app on a wide variety of devices or purchase it and it will be available in the Kindle Cloud.
To purchase your Kindle copy, click HERE now.
Note: This book is really out of date and is probably only interesting to those that want somewhat of a history lesson as to where we've been versus where we are today in podcasting and live streaming production.